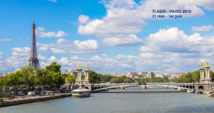 You provide services, equipment or new technologies in the field of road freight transportation ?

On May 31 and June 1, 2018, TRANSFRIGOROUTE FRANCE will be hosting the General Assembly of Transfrigoroute International.

Each year, 200 professionals from 14 European countries attend this event.
From transporters to insulated body builders, from equipment suppliers to the manufacturers of heavy duty vehicles, all these businesses are involved in controlled temperature transportation and are members of Transfrigoroute International.

The attached letter gives you a detailed presentation sponsoring offers for this event.





18.02.12 EN Sponsoring TI.pdf
(797.81 Ko)